I pride myself on being the best White Hat Link Building company in London (if not the country).
I've worked really hard over the last 9 years to build processes and systems to give you the very best results for the money you invest.
With these systems I've built, I'm able to provide you with a service that matches even the best SEO agencies in the UK, outperforming the vast majority of them.
Having said this, I thought it would be a great idea to write down exactly how I do things (step by step) with the aim to be completely transparent with you. This way any objections you might have about signing up to become one of my few selected clients will disappear 🙂
Keep in mind that I run a small business, so I can only work with a handful of people at any one time. To ensure that I get incredible results for every single one of my clients, I only take on board a max of 5 clients at a time. As of right now I only have space for two more clients, so go through this page and then get in touch to see if we'd be a good fit.
>> Click Here to Send Me an Enquiry <<
Step 1: Create GMail Account
This is the first step I take with every single new client that I take on board. All I do is create a GMail account, using the persona of the business owner. This is the email that I use to contact the link prospects that I find.
The reason I create the GMail account in the name of the business owner is that it's a lot easier to get links when people think you're the business owner rather than some guy that was hired to build links.
So yes, I'm going to be pretending to be you in order to build you high quality links 🙂
Step 2: Get Access to Analytics
This is a very important step. I'll have you give me access to your Google Analytics account so I can get a deeper insight into your website, it's content and to find out exactly what visitors do when they come to your website.
Step 3: Get Access to Search Console
Just like like previous step, I'm going to ask you to give me access to your Google Search Console account. This is going to help me discover exactly which keywords your website is already ranking for, how much traffic you are getting and if there are any quick wins we can take advantage of.
I'm going to look at both your analytics and search console accounts and dig for opportunities. Things like what you're almost ranking for and what's getting impressions but not clicks.
This is the step where my real work begins. I'm going to analyse both of these accounts and use them to find…
Which are your most popular pieces of content
Which keywords your site ranks for already but could rank higher for… these are quick wins (keywords that you are ranked in positions 7-35)
Whether you have some 'sleeping giants'… these are keywords that are receiving impressions in the search results but aren't being clicked on
Step 4: Check Anchor Text Ratio
I'll use tools such as SEM Rush, MOZ Pro, Majestic SEO and Ahrefs to analyse all your incoming links and the ratio of the anchor text.
The truth is that it's very unnatural if all the links pointing to your site are using anchors for the keywords that you want to rank for. If you have an unnatural anchor text profile then I'll build some quick and 'easy' links to dilute the anchor text with some more natural anchors such as your brand name, click here and your URL. These are the types of anchors that people linking to your site without you asking them would naturally use.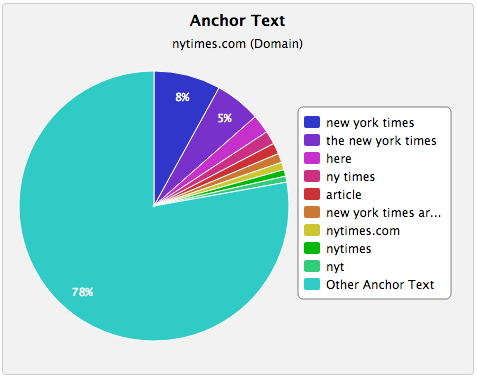 Step 5: Content Audit, On Site and Links
The next step is that I begin to look at all the content that you currently have…
What do I have to work with?
Are you actively creating content?
Do you have a content creator?
How many social shares does each piece of content get?
Do you have distribution channels built out (email list, social following etc)
Are you willing to invest in content creation?
I then make a list of all the URL's for the good content you have so that I'll have easy access to them when I'm approaching link prospects.
If you have no good content that I can use (don't worry, this does happen quite a lot) then between us we'll create a plan to create new quality content that will be of interest to my list of prospects.
If you have your own content creator within your company who can create quality stuff then great, if not then I'll be more than happy to use one of my own content writers. This will be an additional expense and is my preferred method because I know these people can give me the exact type of content that I want.
In a perfect world, you'll give me a content budget for both on site content and content that is to be placed on different prospects sites.
Step 6: Links Audit
I'll do a complete audit of your current incoming links. This involves…
Is your domain clean? No links that are spammy or unnatural
Is anchor text ratio clean? Not over optimised
Run Majestic on target pages to make sure that everything is in order from a linking perspective
Check your metrics, TF (trust flow), CF (citation flow), DA (domain authority), PA (page authority), link history for any blips, links from relevant websites, this allows me to see if there are any pages that aren't being utilised to their full potential, or whether there are some that are already earning links
Step 7: Add Content to Targets Tab
In this step I'm going to make a list of all the information that I've gathered over the last few steps. All this information is kept in a live reporting document that's updated in real time, and can be accessed by you (the client) any time you want. So you know exactly what's going on at all times.
This document will keep a track of all the content that I'm going to be using, the keywords that the content is ranking for right now and any other keywords that I believe it should be ranking for.

Step 8: Generate a Massive List of Google Operators
I'll use the keywords that I generated from the step above to create a massive list of advanced Google Search Operators. These are powerful words and characters that can be appended to search terms in Google that will help filter out specific results that we're looking for.
These advanced search operators allow me to find all the best websites that are perfect for the types of links that I will be targeting for you.
An example is if you were building links in the "chocolate" niche, you could use an advance search operator such as…
"chocolate inurl:resources"
which you would type right into Google.
This search would return all the pages that are about chocolate and have the world "resources" in the URL. The likelihood is that all these pages that are returned are lists of resources about chocolate, so if I've taken the time to create a good resource then all these pages would be great link prospects that I should target.

Step 9: Select Types of Links Based on Content We Have, Budget, Willingness to Add Content
Depending on the type of site you have and the things that I've discovered in the previous steps, I'll select a few types of links that would be most suited to your site. These won't be the used exclusively, but will be the types of links that will build the foundation for this campaign.
Good examples of this are in industries that aren't so "interesting", or if you don't have a lot of content on your site.
For example if your site is in a boring industry or you don't have a lot of good content on your site, then I know that the best types of links to build in this case will be guest posts on other people's websites and on the sites of local bloggers. Or perhaps by implementing the bridge method (where I find related industries to yours that aren't in direct competition with you) where we can get links from.
All of the above examples don't require that you have any content on your site but have content that is to be created and placed on other people's sites and of course this content will have a link pointing back to your site.
Step 10: Create a Project Management Plan
So now, everything has been setup and put into place. I've got all the information I need to successfully run your campaign, so it's time to create a roadmap of how the next few months will go.
In the live reporting document, I'll create a project management tab that will show you exactly what's going to happen, step by step over the next 3 months. This is extremely detailed and the steps will be updated in real time as  "assigned", "working" or "completed".
The great thing about this is that you're constantly aware of what's going on and exactly what work I've done so far and what work needs to be done over the coming few months.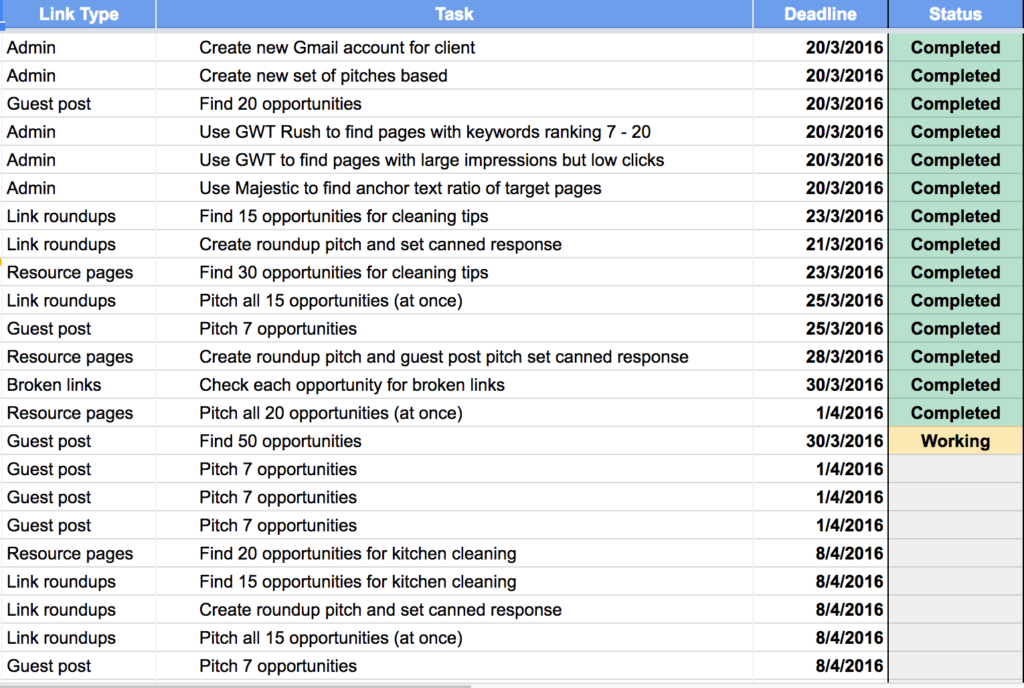 Step 11: Find Opportunities, Concentrated on Contact Name and Email
So by this step I know the following…
Which keywords you want to rank for
The content that I can use to rank
The types of links I want to get for you
The search operators I will use to generate prospects for links
These 4 things are what I use to create a list of link prospects… I call this prospecting. This of course is an on going process, so if you ever look at your live reporting document, you're going to be able to see a list of all the prospects and their status. Obviously the status will change every single day, as I update it in real time.
I try really hard to get a personal email address as well as the name of the person that I'm going to be contacting as this makes outreach a lot more effective!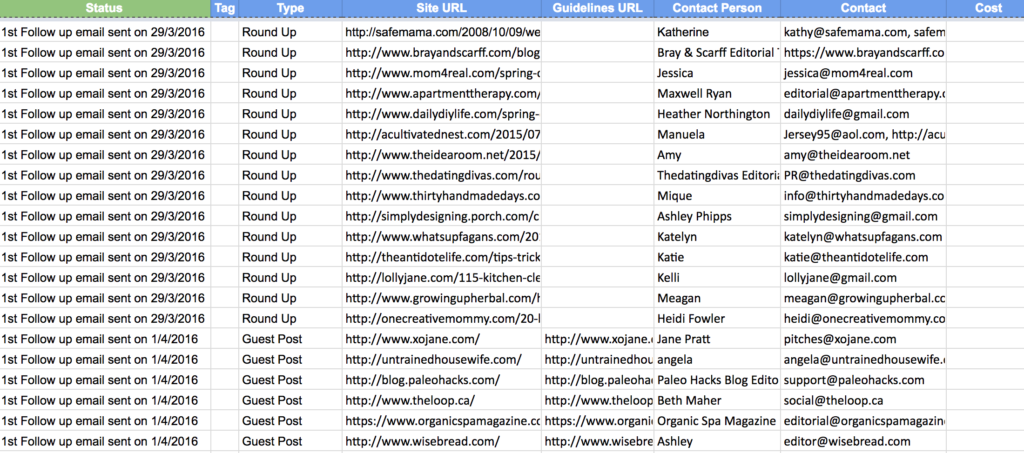 Step 12: Outreach to Link Prospects Using Personalised Name and Email
So for each of the link prospects I've found, I'll send a personal email using their name and their personal email. Of course the content of the email will vary depending on the type of link that I'm going to be asking for.
How you approach a link prospect varies depending on whether you're asking to guest post or if you want a resource link, so you have to adapt accordingly.
Approaching the link prospects in the correct way will often result in a solid relationship being built with the prospect, meaning that if I have something that can be mutually beneficial then the prospect will be more open to the idea. Of course, not only will we be getting links from relevant prospects but often times these very prospects will share our (the clients site) socially, which of course is an added bonus!
Step 13: Follow Up, Follow Up, Follow Up
This is probably one of the most important parts of the process, that is often overlooked by other SEOs and agencies.
People, especially busy people with websites get hundreds of emails every single day. You're probably one of these people and believe me when you get this many emails its easy to ignore them. So for this very reason I don't just send a single email, but rather I follow up with another email (or 3) to all the link prospects that don't get back to me.
I also track email opens, so I know exactly who has opened my emails and not replied and those who just haven't even opened my emails. Depending on the situation I send completely different follow up messages.
Step 14: Results
The benefits of the methodology that I have created are primarily based around 2 performance indicators.
From applying the system that I've developed we're going to see an increase in performance in the following two areas…
Referral traffic growth
Organic traffic growth
People will click on the links that I've earned for you. These people will only click on the links because they're interested in what I've presented to them, which usually results in extremely relevant traffic that converts incredibly well into customers for your products and services.
Of course the other benefit is that these links will be on relevant and high authority sites… and this is essentially the 'food' of search engines like Google. We're going to be giving them exactly what they want and they in return they will reward your site with higher organic rankings which of course will result in more relevant traffic.
This is the exact type of traffic that converts and buys the products and services that you have on offer. These people are searching for and looking to buy what you have to offer. So as long as your site does its job and is setup to convert the people that come to your website then this is absolutely the best type of traffic you can get!

Step 15: Link Expectations
How many links you get depends on the kind of content we have on hand, what your site is selling and the attitude and reaction of the link prospect we approach. But on average I tend to get about 10 – 20 links per month.
For example, we created 15 pieces of content for one particular client this month
3 were for opportunities discovered where people were linking to a resource that no longer existed, so we simply created their own version of it and suggested it as a replacement for the "broken" link
10 were for guest post placements, specific pieces that were created to suit the audience of targets that would be able to link back to a relevant service
2 were improvements on popular pieces of content, I found pieces of content that were outdated, or could be improved on, that had a LOT of links to them, I then approached the people linking to those pieces and showed them our "better" content and suggested that they link to it
Step 16: Reporting Document
I do all of my reporting in a single document:
Link Spreadsheet – This is a live spreadsheet (that you as the client can access at any time) that contains various different tabs that will show you things like the project plan, all link prospects, the status of outreach, link opportunities, the content I'll be using for outreach, the passwords of any accounts I've setup for the campaign, live links and some other useful information.
This spreadsheet is accessible by you at any time (you'll have a link to the Google Sheet) so that you can check up on the work I'm doing any time you want. This spreadsheet is updated by me in real time so it's completely up to date.
CLICK HERE TO SEE AN EXAMPLE OF MY LINK SPREADSHEET
Step 17: How Much Do I Charge?
I do things in a simple, straight forward and completely transparent manner.
I have 2 packages, and you can pick whichever one suits you and your needs.
Package 1: £3,000 / month = 9 links a month
Package 2: £6,000 / month = 20 links a month
There are no silly long term contracts. We work on a month to month basis so you can cancel anytime you like 🙂 Although once you see the incredible results/ROI that come about as a result of the work that I do I'm sure you'll never want to stop working with me!
Like what you hear?
If you trust me to build your links without needing to know specifically what they all mean then just… GET IN TOUCH!
Most of you can stop reading here. The steps I've shared above are the bulk of my work. Below is a list of the 20 different types of links that I build in my White Hat Link Building company and a little bit of information about what they are. If you're interested then please… read on 🙂
Types of links I Build For My Clients
I mainly have 20 different link types that I use for my clients, but it's very rare that I use more than 5 or 6 for any individual campaign.
These are a very under-utilised type of link. People all over the internet are aggregating content by sharing posts they feel their audience would be interested in and love. These people are literally sitting there asking you to show them something worth sharing.
So if we create something that they'll like, I simply email them and show it to them.
An example could be "This Months Best Fitness Posts". So if your site has a great post about fitness then this person would be more than happy to share it with their audience, linking back to your site in the process 🙂
Resource Pages + Broken Link Building
This is the bread and butter of all great link builders… the good old resource page.
A resource page is basically a page where people are listing resources around the subject matter that they write about. These pages exist on billions of sites, in every niche across the Internet.
If you have a quality resource then it should be on these types of pages and if you don't then we should work together to create a quality one.
I love to pair this link building tactic with broken link building and the way I do this is by analysing resource pages (in the clients niche) to see if any of the resources that they are linking out to currently are no longer available. And for any that are no longer around, we simply have the resource recreated (and improved upon) and get the resource page to replace the broken link with your link. Of course, the broken link means that there is an opportunity to get every person that is linking to the broken resource to now link to the resource that you created.
Content Placements (Guest Posting)
This is a great tactic that is best used when you don't already have great content available on your site. We'll get great content written and then approach other sites in your niche that accept other people's content on their site. They get great content written for their audience and you get a link back to your site… it's a win, win situation.
This involves the same process as the content placement tactic above, but it will cost you money. There are a lot of websites out there that will write about your product or service in exchange for a sample or in most cases money.
This is a really great tactic to get links on sites that your competition just won't be able to get on.
Link Reclamation / Image Reclamation
For this link type I find places that used to link to you in the past but have removed the link and I tell them that you're still around and would really appreciate it if they would make the link live again.
And I also look for websites that mention your brand or products without giving you a link and then ask them to replace that mention with a live link.
I do the same for images. So I go around the web looking for images that are yours that other sites have used without your permission. Then I ask them to credit the image by linking back to your site.
Bridge Method (Location Based)
I hunt for websites that are based in the same area as you and then approach them as two businesses that are helping each other out with mutual links or I ask to guest post on their site.
Bridge Method (Niche Based)
I love this type of link. Here I look for businesses that are related to yours in some way, but aren't in direct competition with you and simply ask for a link.
Think in terms of a coffee bean manufacturer linking to a coffee shop that sells its beans…. very relevant and related but not in direct competition with each other.
This is a more longer term strategy. People have been doing spammy online PR for years now, but what I'm talking about here is actual real PR.
Do we have anything that's worthy of the attention of local journalists, Buzzfeed, The Huffington Post, if so it's completely possible to track down these journalists and get them to add your link to either a past article or an upcoming one.
Yes, they'll often ask for money for this type of link but in my opinion and experience this type of coverage is worth every penny you shell out. You'll have to typically pay a few hundred for this kind of link, but it's incredibly valuable when you get it.
On the other hand if you're not paying then local newspapers are always on the hunt for local businesses that have helped out their local community. So if you've done some good lately such as helping out a charity, your local sports league or have an interesting story to share then we can get a story published by your local newspaper which of course will get you a very valuable link that none of your competitors will have!
There are probably millions of people in your local town or city that have a blog.
And most of them are probably making absolutely nothing from their blogging efforts.
So, I'm sure they would be extremely happy to link to you if you can give them a solid reason as to why… and as they are local to you, this is a very relevant and valuable link.
If you don't have a solid reason, then a little bit of money often does the job. Simply hand over a few pounds and get your link added to an old blog post of theirs.
Practically every university out there has an internal blogging platform and thousands of students take advantage of them. They build them up and then leave them for dead, either because they graduate or they just lose interest because they aren't seeing the results they want.
The great thing about these blogs are that they are hosted on University domains which are really, really valuable and trusted completely by search engines like Google.
Present the right offer and these students will be more than happy to link out to a local business.
Pillowing Tactics (Mostly Used for Link Diversity or Anchor Text Dilution Purposes)
Manufacturer Links (eCommerce Only)
If you happen to sell a product that another company makes then these manufacturers often have a list of distributors or people who happen to use their products listed on their site. If they don't then it's usually very easy to convince them to create this page.
If you happen to create any videos then there are multiple places where you could share these videos including places like Youtube and Vimeo. You can add a link to your site in the description box.
If you have any online directories that are specific to your niche then you should definitely be listed on them. On top of that you should also be listed on the big and popular ones where every business is included.
Professional Organisations
Most business niches have professional organisations, so if there are some for your niche then you should definitely make sure that you're a member. Often times members are rewarded by getting a link back to their site.
Conference and Event Links
If you happen to attend any events or speak at any conferences then they usually link out to their attendees.
Blog and Forum Commenting
Yes, most people think that this is a spammy link building tactic, however if you do it in the right way for the purpose that blogs and forums exist for in the first place, then it's really a wonderful way of not only building good quality links to your site, but also getting a steady stream of highly relevant traffic coming to your site. On top of this if you're a regular commenter then you have the opportunity of building a relationship with the owner of the blog.
Wikipedia is one of the most trusted sites in the world. The great thing is that it's created and edited entirely by its users so literally anyone can add anything to any page… including links to your site. However, you need to make sure that the links are extremely relevant and useful otherwise they will be removed just as fast as you add them.
Extra Tactics
Reverse Engineering Competitor Links
This is a great tactic, which when used alongside all the other link building tactics will surely propell you ahead of all your competition. Here we simply take a look at all your competitors links and try to recreate the best of them.
If you happen to be in an industry where there is some wonderful data and statistics available then infographics are a great way to share this information. Other sites in your niche who are writing about the topic and need data in a simple and presentable way will often embed your infographic and link back to your site in the process.
This is a method that has probably been around since the dawn of the Internet, but has recently become popular thanks to the legendary Brian Dean of Backlinko.
This method basically involves you finding a piece of content in your niche that has a ton of links pointing to it, and then going away creating something a whole lot better and more up to date. Once your new piece of content is ready, you simply approach all the people who have linked to the original piece and ask them to link to your better content… and voila you'll get some incredible links.
So there you have it. All the links building tactics and strategies that I implement for all my clients to get them incredible results 🙂